In the neighborhood of Belmont Heights you will find the beautiful, fully restored, Euclid Apartments. Built in 1930, this Spanish Colonial Revival fourplex is a unique property that is one of a handful Spanish properties in Belmont Heights. With tile roofing, half round arches, doors, and windows, this property boasts the traditional architectural features with a new, renovated appeal.
The Location: Belmont Heights
Belmont Heights' borders are Ocean Boulevard and Livingston Drive to the south, Redondo Avenue on the west, 7th Street to the North, and Nieto Avenue to the east. The predominant architectural style in this district is the Craftsman bungalow. Belmont Heights historic district was adopted by the city in May 2002. Stretching from 7th St. to the North; 4th St. to the South; Newport to the West; and Roswell to the East. Based on the architectural survey conducted in 2002, the Belmont Heights Historic District is a neighborhood of homes predominantly built between 1905 and 1939. The predominant style here is Craftsman Bungalow, followed by other architectural styles found in the area such as: Victorian, Mediterranean and Spanish Colonial Revival, Tudor Revival and Neo-Traditional.
A local historian and vice president of the Belmont Heights Community Association, Maureen Neely, said residents began moving to Belmont Heights to escape congested towns. Many of the original homes sat high on bedrock overlooking the ocean and marshlands below, giving it the name Belmont Heights.
In 2003, in a small, nearly private street in Belmont Heights, residents of Eliot Lane sought historic designation to protect the look of 30 homes. This street, Eliot Lane, may be one of the best kept secrets in the Heights. Sitting between 3rd and Colorado, and Argonne and St. Joseph, a stroll through Elliot Lane is like traveling back to the early 1920's.
The homes are still small – 600 to 900 square feet – and there are seven versions of the popular Spanish Revival or Craftsman Bungalow homes in the tract, all built in 1923 by Boland & Smith. For most of the street's life it was called "Eliot Court" because it was designed to be pedestrian
Belmont Heights has 13,585 residents and is the 12th most walk-able neighborhood in Long Beach with a WalkScore of 85 and a bike score of 73.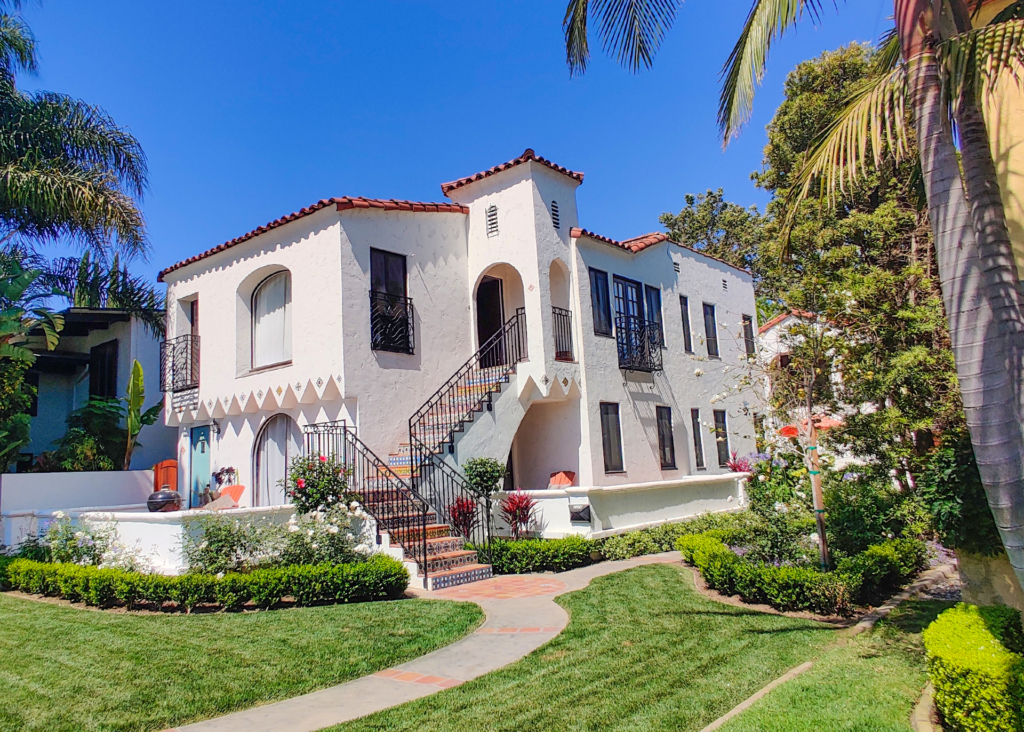 The Property: 232 Euclid Ave
The Euclid Apartments have been meticulously maintained by the owners, and with approximately 3,400 SqFt of living space in a prime location, this beautiful Spanish fourplex is an amazing property. On a huge 6,500 SqFt lot lies an outstanding unit mix of two – 2 Bedroom/ 2 Bathroom units, and two – 1 Bedroom/ 1 Bathroom units with a total of 4 car garages, one per unit. The owners have beautifully restored this property with extreme care for functionality and aesthetic. This property features all new plumbing and electrical and has been completely revamped with new landscaping to make the property stand out.
The large glass windows throughout the property allow for an abundance of natural lighting which is a big plus to residents who will feel happier and healthier in this environment. The balconies are a huge plus during this time where people are still working from home, as it provides residents with a private area to escape to.
The excellent location of this property features a short walk or ride to the Bluff, Belmont Pier, beaches, shopping and dining options, and transportation corridors.
Currently there are two fourplexes on the market, with the highest priced at 2,650,000 and no fourplexes in escrow. In the last 12 months, there have been fourteen fourplex sales in the 90803 zip code with an average sales price of $1,671,429.
We chose this fourplex because of its elegant, Spanish Revival-style architecture, the new utility upgrades, new landscaping, and the rare lifestyle opportunity provided by its location.  We appreciate property that provides maximum value to its residents, and we want to commend the Owners who make it all possible by continually renovating and improving their property.